Till the end of October 2016 KUNSTWERKPLAATS LDS46 (Badhuisstraat 46, Huisduinen) presents the work of two photographers: Thijs Quispel en Fauve Bouwman. The most important similarity between the two is the role and influence that looking at art has had on their work that LDS46 is presenting now.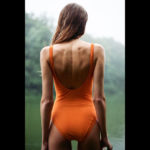 Fauve Bouwman (1991) grew up with an eye for art and was able to exercise her 'eye' since childhood in the art gallery of her father.  With her photography this came to fruition. Visitors of the exposition will look with her, and get 'captured' by her style and the search for her existence. The photographs from the series 'Patricia' show more than the image of a beautiful young woman alone. Together with Fauve the visitor will investigate and gets the feeling that he is allowed to meet both the photographer and her model. As a silent witness the viewer becomes also a participant.
Fauve Bouwman graduated from the Photography Academy in Amsterdam in 2014. Since then she has been working as an anologue photographer in the field of fashion photography, including the fashion house Stieglitz. Next to that she works for many other clients and finds time to create free work. Fauve Bouwman was selected as New Dutch Photography Talent 2016.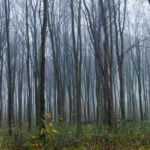 Thijs Quispel (1949) has a meaningful carreer as art photographer but also always has been making free work in which he focusses on nature. As a photographer of paintings in museums, he has seen more important artworks than we can imagine. This is reflected especially in the images he shows in this exhibition. The works sometimes have a tranquil and mysterious character while at other times the foam almost splashes from the image. These striking pictures seduce to a personal story, that the visitors can fill and colour themselves. No viewer will experience the same.
Thijs Quispel graduated in 1972 at the MTS for photography in The Hague, after which he became involved in the art world as an assistent of Studio Schuyt & Elffers. Up from 1976 he works as an independent photographer for o.a. the Van Gogh Museum and Scheepvaartmuseum in Amsterdam, and the Frans Halsmuseum in Haarlem. As a photographer Thijs Quispel was intimately involved in the manifestation of Art Rooms (in De Rijp). He has exhibited several times, as a soloist and with groups. He also participated in the art collective 'Artagainstwater', and made in that context in 2007 a thematical photo report of the Hondsbossche Zeewering, being the weakest link in the Dutch coastal protection against the North Sea. Some works from this series are included in the current exhibition.
The exhibition will be open on Sunday afternoons from 2-5 p.m. in September. Until October 16, 2016 the exposition can also be visited by appointment. After that 46-ART B.V. will continue to represent the work of both photographers, so please contact them in case of any further questions or to make an appointment.
LDS46
Badhuisstraat 46
1789 AK Huisduinen, The Netherlands
www.46-art.com
Tel.: 0031-6-53 25 18 09
E-mail: info@46-ART.com